Store
SPIRIT PASSAGES GIFT CERTIFICATES
---
VISIONARY ART BY EVELYN RYSDYK

The Greenman by Evelyn C.Rysdyk
This is a giclée, museum and archival-quality, full-color limited-edition print from an original painting by visionary artist, Evelyn C. Rysdyk.  The image depicts the Greenman–a Middle World spirit of regeneration and consort/protector of Mother Nature–at the crossroad of Spring. With Raven looking on, we see the Greenman as he is about to coax the trees back to life with his faerie flute…or perhaps this ethereal music is meant to lure us back to into relationship with Nature!
The print image is approximately 12″ x 141/2″ and every print in the very limited edition of 60 pieces is hand-signed by the artist. (unframed)
GREENMAN (PRINT)- $500 +$12 shipping/handling
If you are one who is especially discerning, the original painting is available for $10,000. The painting is acrylic on archival-quality, 100% cotton rag illustration board and has been museum matted and framed. Original painting image size: 14″ x 173/4″ overall size ~28″x 34″
GREENMAN (ORIGINAL PAINTING)- $10,000 +$30 shipping/handling
---
THE NORSE SHAMAN: ANCIENT SPIRITUAL PRACTICES OF THE NORTHERN TRADITION
by Evelyn C. Rysdyk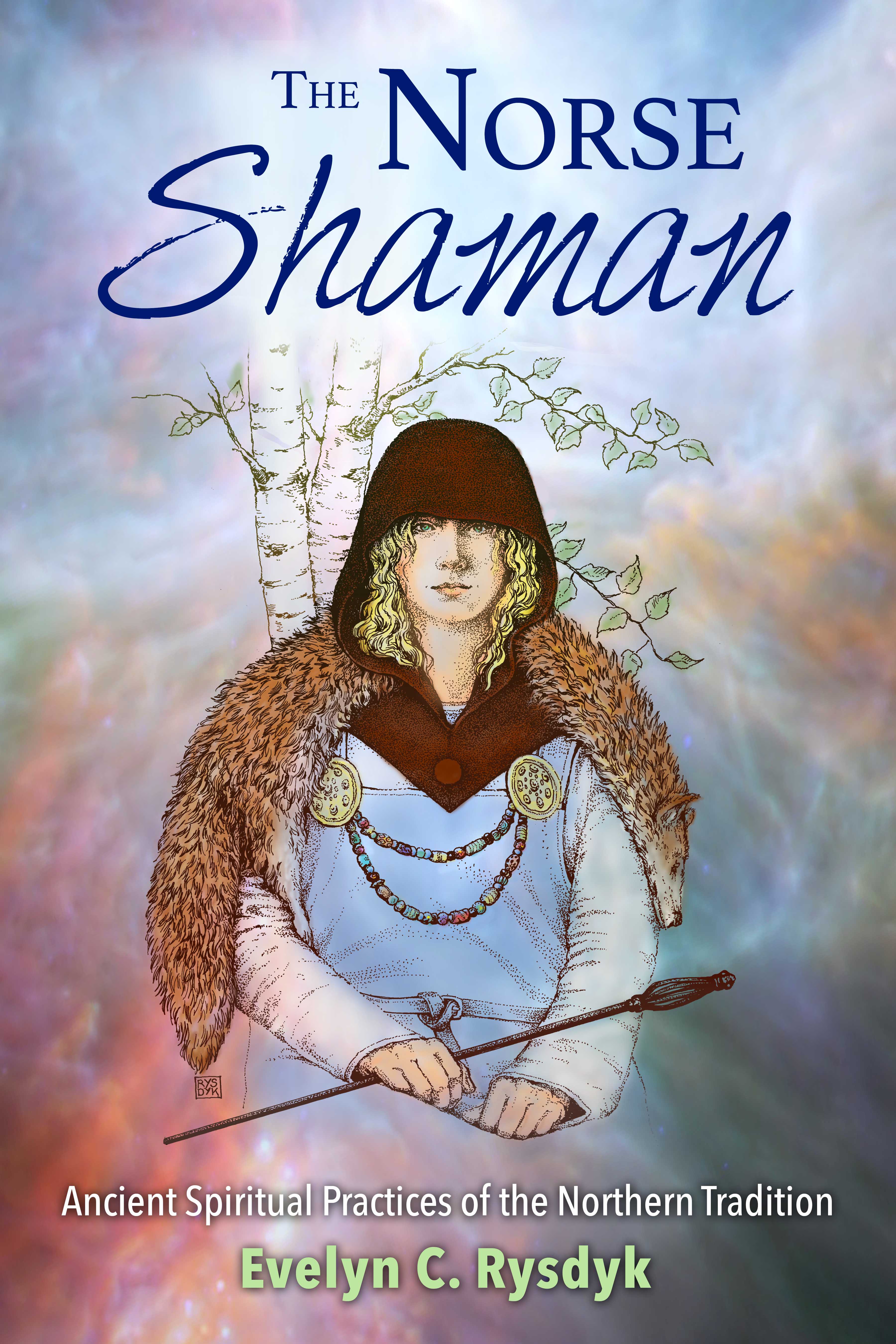 PUBLISHED BY Inner Traditions/Destiny Books September 2016, The Norse Shaman, is available for pre-order from bookstores across the U.S.A., Canada and Europe.
Shamanism is humanity's oldest spiritual tradition. In much of the Western world, the indigenous pre-Christian spiritual practices have been lost. Yet at the northern fringes of Europe, Christianity did not displace the original shamanic practices until the end of the Viking age. Remnants of Norse shamanic spirituality have survived in myths, folk traditions, and written records from Iceland, providing many clues about the ancient European shaman's world, especially when examined in conjunction with other shamanic cultures in northern Eurasia, such as the Sami and the tribes of Siberia.
Includes shamanic journeys to connect with deities and your ancestral shamans
Provides step-by-step instructions to prepare for and conduct a seiðr ceremony
Draws on archaeological evidence and surviving written records from Iceland
Reveals the long tradition of female shamans in northern European shamanism
Reconstructing the shamanic practices of the hunter-gatherers of Scandinavia, Evelyn Rysdyk explores the evolution of Norse shamanism from its earliest female roots to the pre-Christian Viking Age. She explains how to enter Yggdrasil, the World Tree, to travel to other realms and provides shamanic journeys to connect with the ancestral shamans of your family tree, including the Norse goddess Freyja, the very first shaman. She offers exercises to connect with the ancient goddesses of fate, the Norns, and introduces the overnight wilderness quest of útiseta for reconnecting with the powers of nature. She explains the key concepts of Ørlög and Wyrd—the two most powerful forces that shape human lives—and provides exercises for letting go of harmful behavior patterns and transforming simple knowledge into profound wisdom by connecting with Óðinn.
Thoroughly examining the shamanic rituals of seiðr, the oracular magic of the Nordic cultures, the author provides step-by-step instructions to prepare for and conduct a seiðr ceremony, including creating your own seiðr staff and hood, and explores the ancestral use of shamanic songs or varðlokur to accompany the ceremony. Woven throughout these exercises, Rysdyk provides archaeological evidence from Neolithic sites supporting the long tradition of venerating wise women, grandmothers, and mothers in ancient cultures and the important role of female shamans at the heart of northern European shamanism. Providing an accessible guide for anyone trying to fulfill their shamanic callings, these powerful rituals can provide personal healing and a clear path for finding our way into a harmonious relationship with the natural world.
$18.95 on Amazon
$18.95 on Barnes & Noble
$18.95 on Inner Traditions
---
"…I was forced, FORCED I say, to buy a paper copy of this book! I read it on Kindle and it's too useful to just read straight through…I needed a copy I can flip back and forth in and bookmark and maybe mark-up or whatever!"
—JoAnn Turner, British Columbia, Canada
---


Seiðr chanting to accompany The Norse Shaman!
NORSE SHAMAN: SEIÐR VARÐLOKUR
CD of Northern European Shamanic Chanting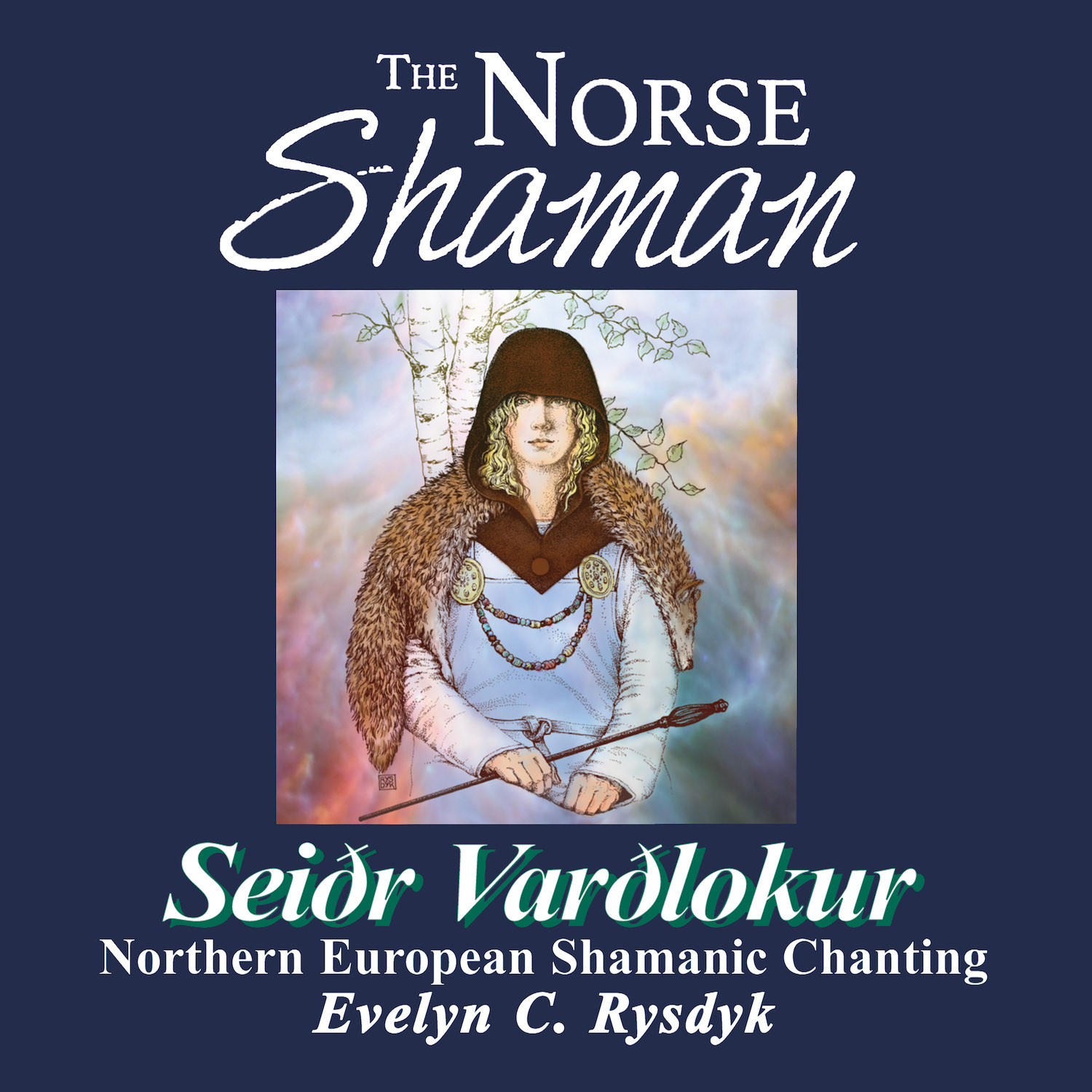 Norse Shaman-Seiðr Varðlokur is brand new recording that is a perfect accompaniment to Evelyn Rysdyk's book, The Norse Shaman. The recording was designed to support a seiðr ritual and is especially useful for solo practitioners.
During the seiðr ritual, the völva or shamanic seeress would enter the realms of the ancestors to seek prophesy. Her shamanic journeys through the roots of the magical, World Tree, Yggdrasil were supported by the haunting sounds of a women's chorus. While no records of traditional varðlokur exist, they were probably repetitive, sing-song melodies that would assist the seer in achieving and holding a trance state. From reports written in the Icelandic Sagas, it is most likely that there were some of these songs that were common knowledge among practitioners. In addition, it is also likely that each völva had a number of personal varðlokur for connecting with power, performing different kinds of magic or contacting individual spirits.
The reconstruction varðlok on this recording is meant to assist in achieving and holding trance during a seiðr ritual. It is sung in a minor key in keeping with Viking Age sensibilities. Accompanying the vocals are the wild sounds of nature, cow horn, staff and raven calls. The recording also includes an opening galdr (poetic chant/decree) and closing galdr with callback signal.
This is consciousness altering music that may be used for shamanic journeying, meditation or dreaming. (© 2016 Spirit Passages)
This recording is available for download on iTunes and through CDBaby!
$9.99 on CDBaby
---
"…If I have to pick my favorite shamanic author Evelyn Rysdyk is my number one! Seriously, her work is always well researched and written in easy to understand language. Whether you are just interested or practicing I believe you will find value in her writing…"
—Beverly Wakefield, Twin Peaks, California
---
SPIRIT WALKING: A COURSE IN SHAMANIC POWER
by Evelyn C. Rysdyk with foreword by Sandra Ingerman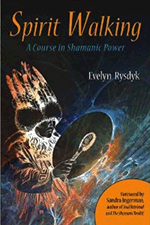 PUBLISHED BY Weiser Books IN 2013, Spirit Walking: A Course in Shamanic Power, is available for from bookstores across the U.S.A., Canada and Europe. In Spirit Walking, shamanic practitioner Evelyn Rysdyk shows how we can all connect more deeply with the spirit world to find balance and healing. 
Shamanism is an ancient spirituality rooted in the belief that all matter has consciousness and that accessing the spirit in all things is part of what keeps the world and people healthy and in balance. Spirit beings surround us and are the source of a spirit walker's ability to profoundly influence life events and thrive in difficult circumstances.
Using shamanic techniques that have been proven over thousands of years of human existence, Rysdyk offers a step-by-step guide to understanding and integrating shamanic practices into one's life through:
Power Animals
Prayers and Rituals
Discovering the Creative Energy of Emotion
Imagination and Manifestation
Learning to Shape-shift
Divination
Traditional Shamanic Healing
Rysdyk shares powerful stories of shamans from a variety of cultures such as Nepal, Tuva, the Ulchi from Siberia, and from Peru. She brings a fresh perspective to the work by showing how the latest findings in quantum physics are verifying that we are all connected in an intricate web of energy and spirit.
$17.08 on Amazon
$17.21 on Barnes & Noble
---
"…It is just a well written, sober introduction to the beauty of these ancient ways that is cross-cultural, heartful and accurate. It places the sacred right in the centre – where it should be. A fabulous book for total newbies and for those of us with a few shamanic air-miles under our belts. Excellent!"
—Sacred Hoop Magazine review
"What I love about listening to Evelyn Rysdyk discuss shamanism is her ability to combine ancient lore with modern science so seamlessly that you would swear you can't have one without the other. With the lyrical voice of an artist she taps into our memories of old, 'forgotten' ways and helps us understand them in terms of the latest findings in physics, psychology, and ecology. She is a wonderful guide for spirit walking between the worlds. Walk with her."
—Tom Cowan, author of Fire in the Head and Yearning for the Wind
"Life is a sacred work … How easy it is to forget that in the rush of daily life! And how wonderful it is when a book like this comes along, not only reminding us of our deepest sense of connection and purpose, but offering wise guidance to help us get back to it."
—Hillary S. Webb, author of Traveling between the Worlds: Conversations with Contemporary Shamans
"I love this book and absolutely appreciate the work that Evelyn Rysdyk is doing. If you are a practitioner of any faith and feel a calling too a deeper connection too Spirit I absolutely suggest this book as a starting point for that journey."
—Jonathan E. Emmett
---
A SPIRIT WALKER'S GUIDE TO SHAMANIC TOOLS
by Evelyn C. Rysdyk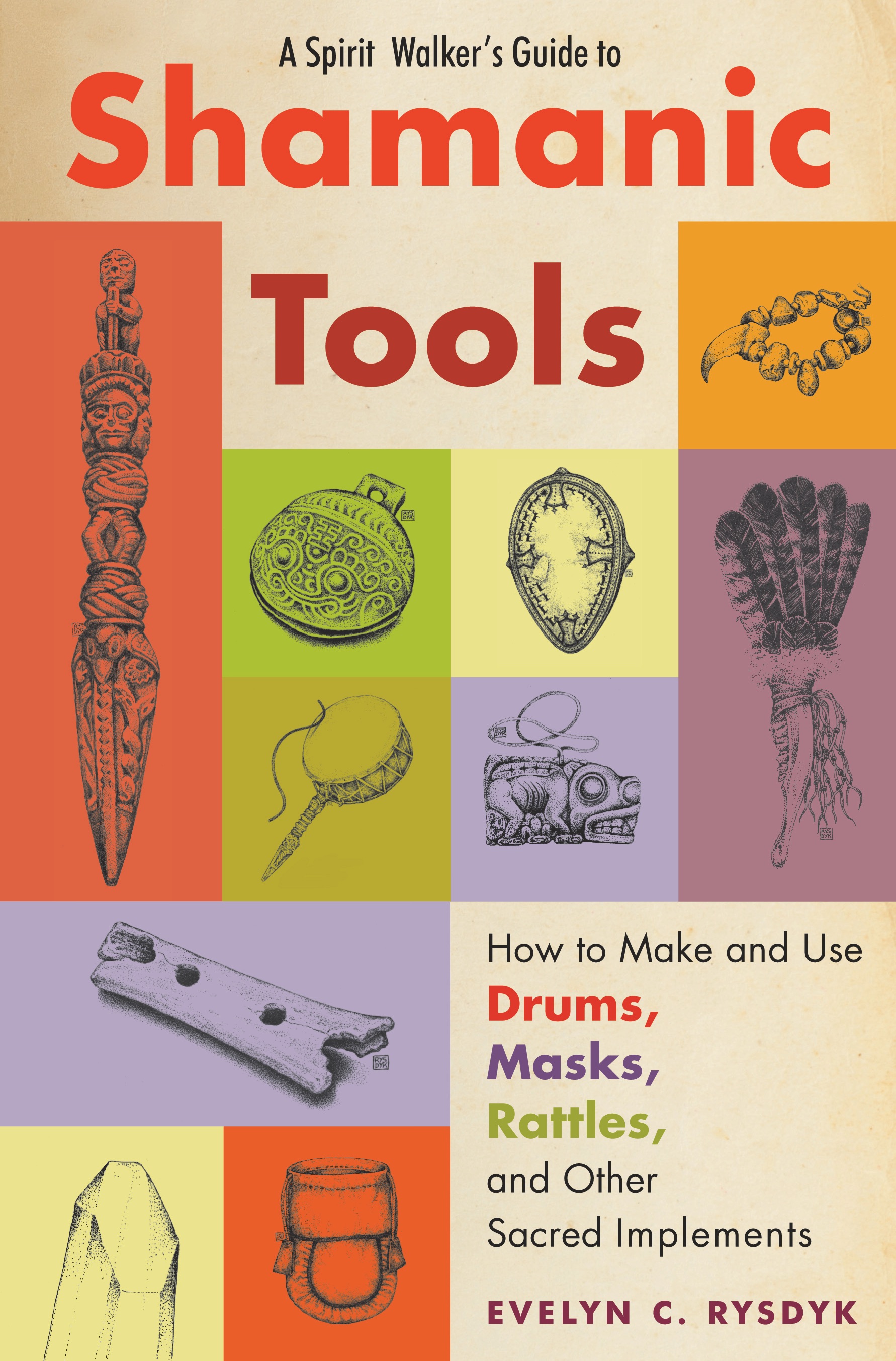 " A Spirit Walker's Guide to Shamanic Tools, is a richly illustrated guide on how to create, decorate, consecrate and use various shamanic tools in ritual and healing. In these pages, you will find information about rattles, drums, masks, mirrors, spirit figures, fans, bells, pouches, wands, flutes whistles and more. Rysdyk presents the reader with a wonderful guide to the many amazing implements that shamans have used around the world. Weiser Books, 2014
"Having an intimate connection to all the spirits that came together in my rattle–knowing that the tiny pebbles in my favorite rattle came from the local riverbank, the handle is wood harvested from a lightning-struck maple in my yard, and the rawhide was once part of a Maine black bear hunted by a native friend for food–gives it a far deeper meaning and power." –From the back cover.
$17.49 on Amazon
$19.00 on Barnes & Noble
---
"This is a truly fabulous and important book. Ritual objects are an essential part of every shamanic tradition on earth, and yet despite decades of my own personal study about them, I have never ever before come across a simple, accurate, down-to-earth book about them – showing their wide variety and explaining their use. With the author's accurate and very fine pen and ink drawings, the book draws on a number of sacred traditions – the main ones that we generally think of when we think of shamanism: Siberia, Native North and South America,Tibet and Nepal. Evelyn Rysdyk knows these traditions personally, she has studied them long and hard, and she is very knowledgable about them, and puts this knowledge clearly and lovingly into the pages…"
—Sacred Hoop Magazine review
---
SPIRITED MEDICINE: SHAMANISM IN CONTEMPORARY HEALTHCARE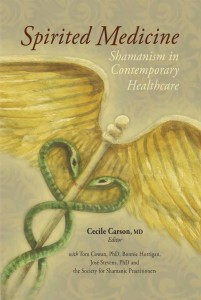 The book, Spirited Medicine includes a chapter by Evelyn Rysdyk titled, "Reverent Participatory Relationship in an Integrative Health Center."
Filled with practical strategies for healthcare and shamanic practitioners alike, this book brings shamanism forward from its historic and animistic origins into a broad range of Western medical settings: surgery, psychotherapy, rehabilitation medicine, family medicine, naturopathy, osteopathy, hospice care, private practice and a general medical clinic.
This book includes a chapter by Evelyn Rysdyk titled, "Reverent Participatory Relationship in an Integrative Health Center," which is how True North uses ancient principles of connection to provide healthcare that is more effective for their patients and a healthier environment for practitioners.
Buy one for yourself and give one to your healthcare provider to open a conversation about spirit and healing!
$24.00 Direct from publisher
---
MODERN SHAMANIC LIVING: NEW EXPLORATIONS OF AN ANCIENT PATH
by Evelyn C. Rysdyk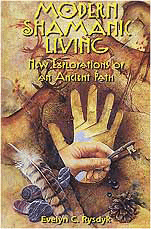 Published by Samuel Weiser, Inc.,Modern Shamanic Living: New Explorations of an Ancient Path, is available in bookstores across the U.S.A., Canada, Europe, Australia, India and South Africa. The book offers readers a unique view and provides concrete steps toward a renewed way of living, full of richness, peace, physical health and harmony for ourselves and the future of our planet.
Through shamanic journeying, meditation, movement, sound and storytelling, the author shows us how to tap the resource of our ancestral hunter/gatherer. This inner character has kept many wonderful treasures of insight and healing safe until the time was right to reclaim them. Clearly, there is no better time than now, for all of us to claim our gifts!
$14.95 on Amazon
---
"Evelyn Rysdyk offers a fresh perspective and her guidance in helping us shift toward a life of meaning and joy."– Sandra Ingerman, Author of Soul Retrieval and A Fall to Grace
"…a book with techniques that can help your life…[and] that will help you on your inner journey!"– Mary Elizabeth Thunder, Author of Thunder's Grace
---
EXPLORING OUR MULTIDIMENSIONAL SELVES: A SHAMANIC PERSPECTIVE
by C. Allie Knowlton, MSW, LCSW, DCSW Foreword by Evelyn Rysdyk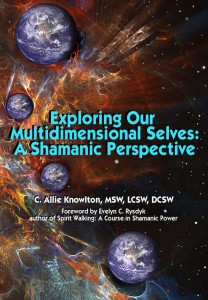 "This book is about making a paradigm shift. While the intention is to support all of us to define ourselves and our reality differently it began as a personal spiritual journey. The non-physical spirit teachers I work with reminded me that, before coming into my present lifetime, I had made a soul agreement to participate in an exploration. This exploration has evolved over seventy years of my life, allowing me to develop relationships with beings in other dimensionswho I choose to call "our multidimensional neighbors." -Allie Knowlton
"Like the sailors of the fifteenth century, today's explorers need to be willing to travel beyond the map. To do this we need to gather our metaphoric compasses and sextants then develop our skills, faith and courage to take us the rest of the way." -Evelyn Rysdyk from the Foreword
$9.99 Download from Spirit Passages
Click here for the Amazon Kindle version
---
ODIANA
by C. Allie Knowlton, MSW, LCSW, DCSW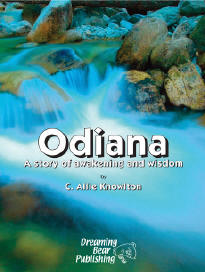 Many years ago, I sat by the bedside of my dying mother, I heard a strong Spirit voice say, "In two years your life will be completely different." There was no time to wonder what that "voice" meant. At that time I was in graduate school, working full time in a mental health center and was a wife and mother. I knew by the way the voice resonated deep within me that I would understand when the time was right.
This book is a narrative, personal account, of what my "completely different" would become. Because of it's personal nature I have been reluctant to offer it beyond selected friends. However, on the eve of my 70th birthday my Spirit teacher asked me, "What are you waiting for?"
I offer this book as encouragement for the wisdom it may uncover on your own journey. This story is a snapshot of a time in my life that brought me profound change. It appears here in its original, typed manuscript form. -Allie Knowlton
$9.99 Download from Spirit Passages
---
SHAMANIC JOURNEY DRUMMING: SPIRIT PASSAGES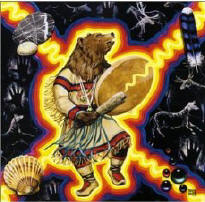 Spirit Passages has produced a new shamanic drumming recording featuring the powerful sound of six drums! This recording has been digitally mastered to produce the richest acoustic depth and full tonal range necessary to alter consciousness for the purpose of making shamanic journeys and includes an opening call to the helping healing spirits.
When shamans journey to the spirit realm, they enter a trance-like state of consciousness. While in this state, the brain generates patterns which are known as theta waves. These theta waves are characterized by a 4-cycle-per-minute rhythm observable through the use of an EEG. Research into altered states have determined that the deepest states of shamanic consciousness may be accessed by listening to rhythmic drumming of 4-beats-per-second. Because these rhythms replicate the pulses generated by the brain during the theta state, the type of insistent, rapid drumming found on this recording can provide support for moving into the shamanic state of consciousness. (© 2000 Spirit Passages)
PURCHASE THE CD FROM AMAZON.COM
$14.99 3-5 Business Days Delivery
---
BECOMING THE NEW HUMAN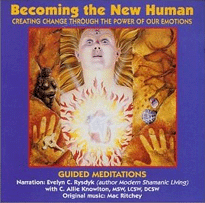 Learn how to manifest a new life through the creative power of your emotions!
This Spirit Passages CD contains guided tracks which will help you manifest a new life through the creative power of your emotions! People using the CD have been very satisfied with the ease with which they could attain the state of being which supports emotional well-being, a better immune response and consider this CD an invaluable tool for physical manifestation.
The meditations on this CD may be practiced daily and are wonderful support for these difficult times!
Tracks include how to release a negative emotion(Relieving a "DNA Cramp") and several guided meditations utilizing the techniques for manifesting a personal enterprise, better health and even world peace–all set to extraordinary original music by Mac Ritchey!
This CD is also an excellent tool for developing or deepening your daily spiritual practice. (©2002 Spirit Passages)
PURCHASE THE CD FROM AMAZON.COM
$14.99 3-5 Business Days Delivery
---
SHAMAN STORIES
Written and performed by: EVELYN C. RYSDYK with music composed and performed by: MEG BOWLES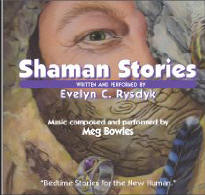 This project is not only a collaboration between old friends, Evelyn and Meg, but a reflection of the enduring connection of these women to the invisible realms of Spirit. Digitally recorded in 1996, these original, visionary tales have been lovingly remastered to bring their messages of joy, connection and hope to an even wider audience. Let these stories and music take you on a transformative journey to a deeper dimension of consciousness.
The Doorway • Path of the Bear • Currandero
This material was previously released as the digital audio tape, "Bedtime Stories for the New Human." (©1996 & 2007 Spirit Passages)
PURCHASE THE CD FROM AMAZON.COM
$14.99 3-5 Business Days Delivery
---
NORSE ORACLE: NORTHERN EUROPEAN SHAMANIC CHANTING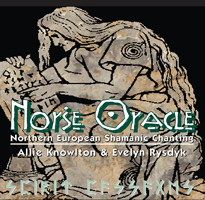 Norse Oracle is a creation which was inspired by the spirits of the North and the ancient, oracular tradition known as seiðr.
During this ritual, the völva or shamanic seeress would enter the realms of the ancestors to seek prophesy. Her shamanic journeys through the roots of the magical, World Tree, Yggdrasil were supported by the haunting sounds of a women's chorus.This recording is in a major key.
This is consciousness altering music that may be used for shamanic journeying, meditation or dreaming. (© 2000 Spirit Passages)
---
GUIDED IMAGERY FOR HEALTH & WELLNESS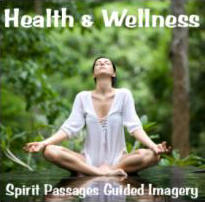 This audio is an excellent tool to support your health and well being Use this guided imagery as a complement to traditional medical treatment. Please note, this recording is not meant to replace medical care or other healing therapies. (Please note, Evelyn and Allie can create custom recordings for your specific health problem or for supporting you during surgery. Please contact them for more details.)
Length 30:13 | © 2010 Spirit Passages
---
"SHAMAMABEAR'S MARKETPLACE" ZAZZLE STORE!
Our Zazzle storefront offers, T-shirts, iPod and iPad cases, Messenger Bags, Hoodies, Portable Speakers, Totes, Mugs and other fun, shamanically-themed apparel and gift items! Click HERE to enter!